Podcast: Play in new window | Download
Subscribe: Apple Podcasts | Android | Email | Google Play | Stitcher | RSS
Michael Anderson speaks with Tim Gallagher, former VC Star editor and Spencer Noren of Raklife.org.
Tim Gallagher, 29 Years of Newspaper experience, Form Editor of VC Star.
What is the future for newspapers? When was the start of the decline?

How do people get their news today?

When was the "golden age" of newspapers/ 
Learn more about Tim Gallagher online: The2020network.com
Non-Profit Spotlight
Spencer Noren is a brand ambassador for Rak Life, check out their website online raklife.org.  This organization has traveled the globe offering random acts of kindness and recently they have played a BIG role in the relief and recovery efforts in Ventura, CA.
Learn more online at raklife.org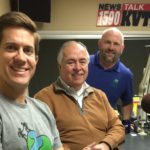 2-Minute Drill
Michael talks about how "procrastination" can have a big impact with your financial matters. He has an example to share about twin brothers starting to save for retirement at age 18 and 26.   
Do you have any questions about your financial matters?  This written plan does not have to be complex, but it can help you segment your assets into short term and longer term investment vehicles. You can get financial planning help at Maranantha.com
The Mailbag
Michael answers a few questions from listeners.  If you have a question for the mailbag, email support@maranantha.com
Thank you to our sponsors:
Geico Local Office – Greg Mauk Serving the 805
Aera Energy – safety, innovation and community. 
Matt's All Haul — For all of your junk removal and hauling needs.
American Pacific Mortgage, — Greg Abrams. Serving the 805.
Spanish Hills Country Club  Previews Memberships available.
Allocationlink.com – Investment Management that is smart, low cost & automatic.
Maranantha.com – The way financial planning should be.
Contact us: Michael@allocationlink.com  805-665-3767